Portal Logout Procedures


It is important to understand that when you click on the Sign Out link in the portal, this does not sign you out of all of the applications you have signed into. It is our intention to address this in this future; however, in order to fully log out of the portal today, it is necessary to follow specific steps outlined below.


Step 1. Log out of Gmail, Google Calendar, and any other Google Apps
- You need to do this only if you have had any open during the current login session.
- If you have accessed any of these applications during your session and have already closed the tab/window, you will need to re-open one of them (e.g. Gmail) in order to sign out. It is only necessary to sign out of only one of the Google applications (e.g. if you sign out of Gmail, this will sign you out of the Calendar, Drive, etc..)
- Proceed to Step 3.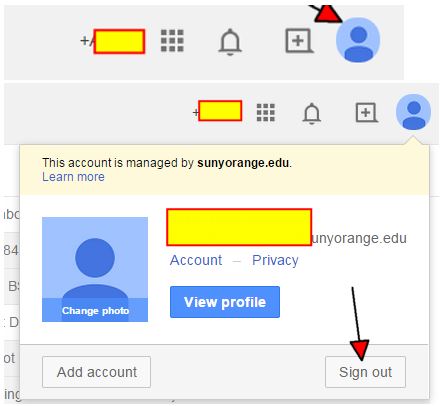 Step 2. Log out of Portal. (Not necessary if Step 1 was completed)
- If you didn't have any Google Apps opened, you will need to follow this step.
- If you have closed the portal tab/window during your session, you will need to re-open it in order to sign out by typing my.sunyorange.edu into the browser's address bar.


Step 3. Close the browser window.
- After following the steps above, it is a good idea to close your browser window for extra protection. Please note that if you have multiple browser windows open (e.g. multiple Chrome windows or multiple Internet Explorer windows), you will need to close them all.